J.K. Rowling has gone on a Twitter tirade after transgender activists posted photos of themselves outside her house, positioning themselves to make sure her address was clearly visible. Rowling has turned into an enemy of transgender folks after commenting on the idea of sex in a Twitter post,
"If sex isn't real, there's no same-sex attraction. If sex isn't real, the lived reality of women globally is erased. I know and love trans people, but erasing the concept of sex removes the ability of many to meaningfully discuss their lives. It isn't hate to speak the truth."
Now, people have deemed this as hostile and have called her out and "intimidated" her by showing up at her home and sharing her address.
Last Friday, my family's address was posted on Twitter by three activist actors who took pictures of themselves in front of our house, carefully positioning themselves to ensure that our address was visible. 1/8

— J.K. Rowling (@jk_rowling) November 22, 2021
'Harry Potter' Author J.K. Rowling Blasted Transgender Activists For Sharing Her Address On Social Media
Rowling posted several tweets detailing the event, and even called the people out by name (Twitter usernames), saying they "thought doxxing me would intimidate me out of speaking up for women's sex-based rights. They should have reflected on the fact that I've now received so many death threats I could paper the house with them, and I haven't stopped speaking out." Rowling continued, "Perhaps – and I'm just throwing this out there – the best way to prove your movement isn't a threat to women, is to stop stalking, harassing and threatening us."
One of the people who took the photo posted a follow-up on Twitter saying they "stood by the photo".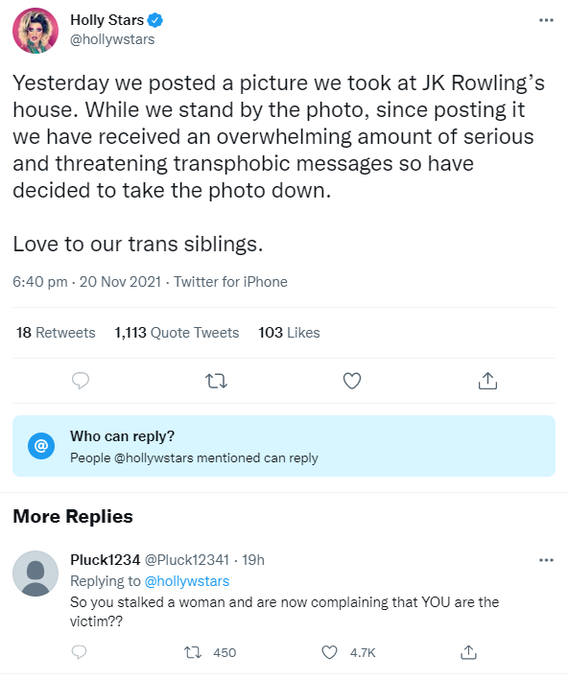 They were immediately called out by someone saying, "So you stalked a woman and are now complaining that YOU are the victim??"
Twitter support helped to take down the image, however, retweets with the address still existed and Rowling asked for people to delete it. Doxxing has become a huge issue since the creation of social media. However, some are arguing that it's not doxxing as her house is public knowledge and can be found on tour bus maps and the internet.
What do you think? Do you believe she was doxxed and those should be reprimanded or if it's easily found public knowledge is it okay? Let us know in the comments below.
For any other soap opera and entertainment news, please visit again Daily Soap Dish. Don't forget to visit The Go To Family for all of the latest travel news!