Podcaster Joe Rogan has friends from all over, both sides of the political spectrum, and different opinions. One of these people is Ben Shapiro who is a conservative talk show host and political commentator who has been nothing but kind and generous while on air with Rogan.
He's appeared on Rogan several times and the two have become friends, and Joe has defended him numerous times, but this time particularly stands out as a podcast convention apologized to their attendees for the "harm" that Shapiro caused by being AT HIS BOOTH and taking photos with people.
Joe Rogan DEFENDS Ben Shapiro After Podcast Convention Apologizes For Ben Being There!
Ben Shapiro's company, The Daily Wire, had a booth at the podcast convention and he "briefly" showed up and it caused "harm". The convention tweeted out, "Hi folks, we owe you an apology before sessions kick off for the day. Yesterday afternoon, Ben Shapiro briefly visited the PM22 expo area near The Daily Wire booth. Though he was not registered or expected, we take full responsibility for the harm done by his presence."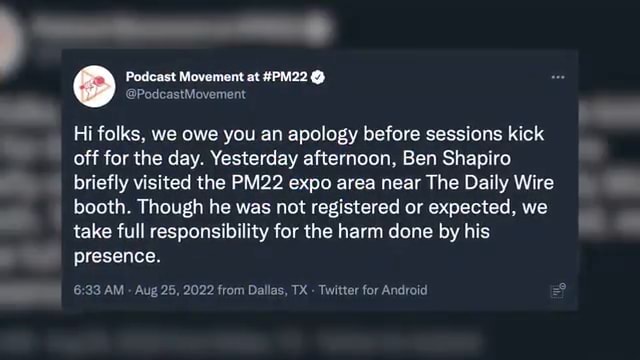 As Joe said, this is bananas and cult-like behavior. The man's company had a booth there and he "briefly" stopped by to meet some fans. Simply being in the same room as a person with differing opinions that you is not harmful, and the convention ponying up a cheap apology like this is silly.
Viewers reacted to Joe defending Shapiro saying, "I actually liked what Joe called these group of people. IT'S A CULT.", "So Ben literally didn't do anything, and they're malding about it lmao", "The pain of hearing Shapiro's helium voice triggers the woke lunatics" and "They gave em a booth and then complained after. Sounds about left/right!"
What do you think? Can you believe they gave The Daily Wire a booth and than went back and complained about Ben being "harmful"? Let us know in the comments below.
We also cover 'Young and the Restless' weekdays on the CBS network. Check your local listings for times. In the meantime, let us know what you think by leaving us a line with your thoughts in our comments section below. For any other soap opera and entertainment news, please visit again Daily Soap Dish.