Owen Wilson wasn't having a good day when he walked outside to find his car had been stripped by thieves hoping to make a quick buck. TMZ got a photo of Wilson's car up on blocks with all four wheels taken, leaving him with no Tesla until it had been repaired.
What makes this worse is this happened while his car was parked right outside his Santa Monica house on the road. Thankfully, his car didn't appear to have many other damages other than the wheels being stolen which are estimated at about $4,000. Though, we're sure that isn't going to be a big deal for the star.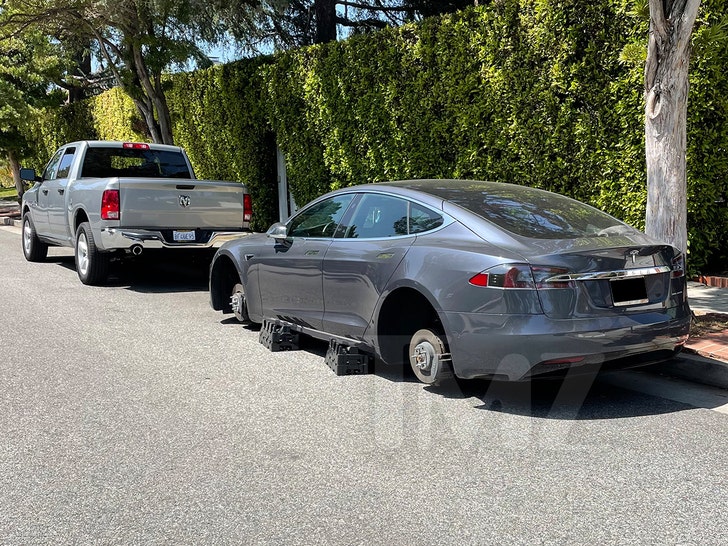 Owen Wilson Walked Outside To Find His Tesla Had Been Stripped Right On The Side Of The Road
As of now, there are no suspects, and police have opened a grand theft investigation. They also said they are looking through security cameras in the neighborhood for any clues. If you ask anyone they would probably say that what happened is terrible and hopefully the thieves will be found. However, if you ask Seth Rogen, he'll just say that is part of living there.
You may remember about six months ago when Rogen was flamed online for his tweet saying that having your car broken into is just part of living in Los Angeles and people should just get used to it. Don't leave anything valuable in your car he wrote, "It's called living in a big city."
However, I'm sure if we asked Wilson how he felt about burglars taking off with his wheels, he may feel a bit different about it.
What do you think? Is that really just part of living in a big city or do you think people absolutely should be upset when they're the target of burglars? Let us know in the comments below.
We also cover 'Young and the Restless' weekdays on the CBS network. Check your local listings for times. In the meantime, let us know what you think by leaving us a line with your thoughts in our comments section below. For any other soap opera and entertainment news, please visit again Daily Soap Dish.